23.06.2016 - New Live Session
You know FIGHT SONG? I have shared my live session here.
01.05.2016 - Tour and new video!
My tour with Gabriel Rios was amazing! Make sure to watch my new video. It ´s my first cover (live session)! I picked his song GOLD – I just love this song.
06.04.2016 - Marion Fiedler opening for Gabriel Rios!
Cologne and Berlin – save the date and share with friends! We are supporting two concerts (15th of April – Privatclub Berlin + 17th of April – Stadtgarten Köln/Cologne) of Gabriel Rios. He is an amazing singer/performer and songwriter. Quite a lot of listeners have asked me how I have met Gabriel. So I thought I´d share the story with you.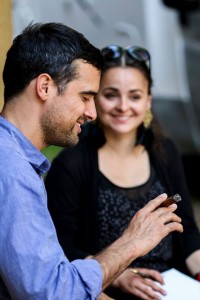 I have found out about Gabriel Rios through his music when going through albums in a CD-shop. I remember how intensely his music resonated with me when hearing his first sounds. I have not heard about Gabriel Rios before, but ever since "This Marauder´s Midnight" has become one of my favorite albums I keep listening to his songs. The more I listen the closer I feel to his song stories. In June 2015 (a couple of months after discovering his music) I had the chance to meet him and talk to him about songwriting, performing, touring etc. before Gabriel´s concert in Dresden. Now I am excited to share with you that I have been invited as opener for two of his concerts. I hope to see yall there!
02.03.2016 - On Tour with Gabriel Rios!
We are very happy to announce that Marion Fiedler is going to join Gabriel Rios on his tour as an opening act! Save the dates: Fr., 15. April 7pm Privatclub BERLIN; Sun., 17. April 8:30 pm Uhr Studio 672/Stadtgarten COLOGNE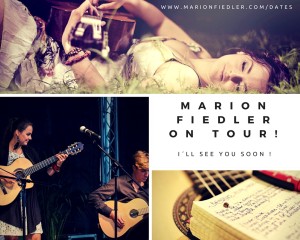 01.01.2016 - Song for peace for the new year
Happy New Year Yall! I wish you a peaceful 2016. Just in time for the first of January I have recorded a new song of mine which I hope will contribute to my wish. Please let me know how you like it! Sincerely, Marion
24.12.2015 - Merry Christmas!
Dear friends, I wish you a merry Christmas, and a good time leading up to 2016. You will hear from me on New Year´s Eve with my song for peace, BECAUSE LOVE WINS. Have a beautiful time! Sincerely, Marion
10.06.2015 - Opener for CITY !!!
Guys! As part of my summer tour I am playing opener for the band CITY before their Saturday night show at the city festival in Pirna on the 20th of June!!!! On Friday the 19th by the way you can hear our trio show in Zittau. We´re almost booked out! More details and dates on my website – see you on the road!!! Big hug, Marion
08.04.2015 - Back to the studio!!!
Guys, great news to be announced VERY soon!
I´m back in the studio with new songs – MAN I LOVE 'EM !!! Can´t wait for you to hear them!!! Big hug, Marion
01.01.2015 - Happy New Year – my song for you!
Hey guys, I am so very happy to present this song to you – ENJOY!!! In case you want to own this song as an mp3, please let me know! Big hug! Marion
24.12.2014 - Merry Christmas!
MERRY CHRISTMAS! I have a little surprise for you: With my Christmas song (free download) I want to wish you a beautiful holiday season – may you find peace and joy, and may you carry the Christmas spirit in your heart!
Please email me (marionfiedlerjazz@gmail.com) how you like the song – I can´t wait to hear from you!
By the way … there is one more song download coming up New Year´s Eve – make sure to stop by on my page on the 31st of December!
In case you are traveling, don´t worry. Both free song downloads will be active for seven days each.
Last but not least: thank you, Johannes Gerstengarbe for recording with me. You rock!